Archives by date
You are browsing the site archives by date.
UBC BIOMOD heads to BIOMOD Jamboree this year with plans to cure glioblastima. BIOMOD Jamboree is an annual conference at which all BIOMOD teams will convene to present their work from the summer. This year's Jamboree is scheduled to take place in Genentech Hall at UCSF in San Francisco, CA starting on October 29, 2016. […]
Congratulations and thank you to all student members elected and appointed to various positions in this year's Chemical and Biological Undergraduate Club team! And best of luck in this year's activities! To learn more about this year's team and its activities, please check out the club's webpage at www.chbecouncil.com.
Courtesy of Chemical and Biological Engineering Undergraduate Club: The 66th annual Canadian Chemical Engineering Conference is a chance for students, faculty and industry professionals from across the country and in some cases, world to gather together and share experiences. Students gave presentations about their research including our own, Ileana Co; she presented the research done […]
The UBC Engineering Competition (UBCEC), held on October 15, 2016, is an all-day competition that consists of 7 different competitions for all undergraduate engineering students. Each competition has a unique focus from debate to design with successful teams qualifying for the Western Engineering Competition (WEC), to be held in Banff in January for a chance to move […]
The Department of Chemical and Biological Engineering as part of its Departmental Seminar Series announces the upcoming Special Seminar: Topic: Molecular Theory of Polymer Rheology from Chemistry to Processing Speaker: Professor Tom McLeish, Durham University Host: Dr. Savvas Hatzikiriakos Time & Date: 1:00pm-2:00pm; November 4, 2016 Location: Chemical and Biological Engineering Building Room 102 101 […]
Event Details: Date: November 8, 2016 Time: 6:00pm-7:30pm Location: Engineering Student Centre Information: Alumni are invited to the fall UBC Chemical, Biological and Environmental Engineering Industry Night where you will have the unique opportunity to meet and network with fellow alumni and the next generation of UBC CHBE & ENVE students. The evening will include […]
Citation courtesy of RSC BERLINGUETTE, Curtis P. – Departments of Chemistry & Chemical & Biological Engineering, The University of British Columbia Curtis Berlinguette leads a team of researchers committed to translating fundamental laboratory discoveries in solar energy conversion technologies to commercial products. His program led the recent development of an entirely new class of stable […]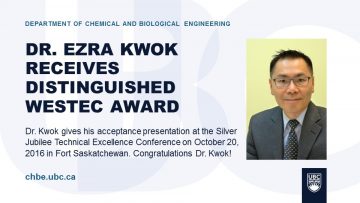 Professor Kwok received the  Distinguished WesTEC Award – External Leader in Science and Technology, from Dow Chemical Canada. This is an important award as it recognizes lifelong achievements in science and technology, and commitment to advance various aspects of science, education, and research. Dr. Kwok will be making an acceptance presentation at the Silver Jubilee Western Canada Technical […]
The Department of Chemical and Biological Engineering as part of its Departmental Seminar Series announces the upcoming Special Seminar: Topic: New Adventures in Imaging: Opportunities in the Microscopy Makerspace Speaker: Professor Christopher Yip, Institute of Biomaterials and Biomedical Engineering, University of Toronto Host: Dr. Charles Haynes Time & Date: 1:00pm-2:00pm; October 21, 2016 Location: Chemical […]
Join Applied Science's kickoff to UBC's annual United Way campaign on October 12! Run or walk from Agronomy Road (Main Mall crosswalk) to Flag Pole Plaza and back. Open to everyone! Dean Parlange will match the United Way donation of anyone who completes the race before he does. $2 or more suggested donation to enter. […]