Archives by date
You are browsing the site archives by date.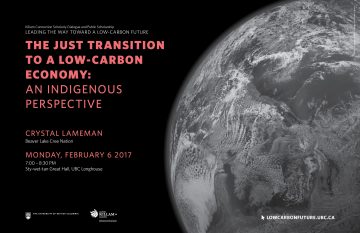 The Just Transition to a Low-Carbon Economy: An Indigenous Perspective Date: February 6, 2017 Time: 7:00pm – 8:30pm Location: Sty-wet-tan Great Hall, First Nations Longhouse Join Crystal Lameman, of the Beaver Lake Cree Nation, for a discussion of the just transition to a low-carbon economy from an Indigenous perspective. Crystal Lameman is a member of […]
Link to our newsletter archive.
Research Day On January 26-27, 2017, is a graduate student-driven initiative hosted by the Chemical and Biological Engineering department in the Faculty of Applied Science of the University of British Columbia to strengthen relations with industry at the graduate level, to facilitate collaborations and to connect communities. The theme of the event is "Nano is the […]
Event Details Start: 23 January 2017 7:30 pm End: 23 January 2017 9:00 pm Venue: SFU Harbour Centre, Joseph & Rosalie Segal Centre Categories: Lecture Series   Visit Low Carbon Future UBC for more details and updates.
The Department of Chemical and Biological Engineering as part of its Departmental Seminar Series announces the upcoming Special Seminar: Topic: The Next Urban Water Revolutions Speaker: Professor David Sedlak, University of California, Berkeley Host: UBC CHBE Graduate Students Club Time & Date: 1:00pm-1:50pm; January 13, 2017 Location: Chemical and Biological Engineering Building Room 102 Abstract […]